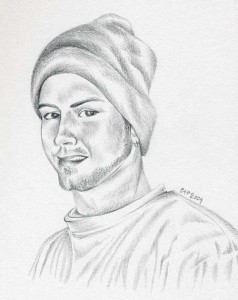 Jake (#4), graphite in sketchbook, February 2009
This is my brother-in-law Jake. He is a true people person and he has a talent for sales. He is inspiring to talk to as he can motivate people to aspire for greatness.
Drawing family members from fuzzy facebook photos is a difficult task. First of all, drawing family is hard because everyone knows what that person looks like and everyone likes to point out that your drawing doesn't really look like them. For me, it is risky to draw family. It is also hard to draw people from low resolution photos as you have to fill in the details that aren't there for you. That said, I think I did an awesome job on this portrait.