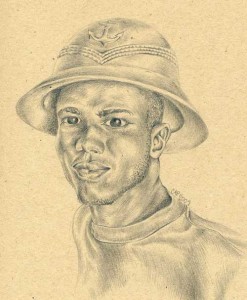 Anonymous Man from Ivory Coast (#6), graphite in sketchbook (9 x 12), February 2009
This drawing really took a lot out of me. It took a lot longer than I had expected, mostly because I have never done anything like this before. I stopped myself from tinkering around with it any further because I knew I would have messed it up worse if I had. I do know how I would do it differently if I were to try it again, but I'm ready to move onto some other things. I based this drawing from this photo by babasteve. His photostream is phenomenal and you will feel like you are traveling the world when looking at his photos.
When drawing this I was reminded of a circle of friends I had some years ago from Ghana, which is right next to Ivory Coast. They were some of the most friendly and witty people I have ever met. We used to get into heated debates about developmental economics and Barack Obama when people were just starting to speculate about him. I miss being in college.