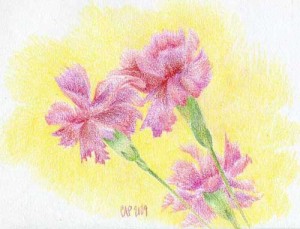 Carnations, colored pencil in sketchbook, 2/14/09
I was feeling a little sick of doing portraits so I did this small sketch of some carnations I had. Normally I am super detailed, trying to capture the minutiae of every leaf and petal. This time I decided to keep it loose and focus on generalities. I need to do this kind of thing more often.
I'm actually considering making a change to my general "style" overall (or at least doing things differently). I feel like I have been too caught up in the details and haven't considered some other important elements, like mass and form and composition. I am all about improving myself in 2009, so we'll see what happens.