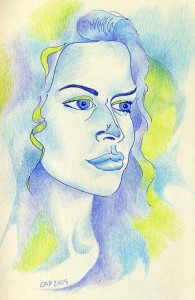 Cool, colored pencil and marker in moleskine, February 2009
Recent conversations have made me consider all the things I have given up and am now going to get back. Generally, I make lists and check things off as I accomplish them. Sometimes when I need a pick me up, I write lists of things that I have already accomplished.
-I took the weekend off from art so I could shop and socialize (Saturday and Sunday!).
-Yesterday I watched TV for the first time in months and I drank 2 whole bottles of beer.
-I have begun to go to the gym again to maintain my (nice) body.
-I have been doing actual visual journaling in my sketchbooks.
-I am becoming more okay with "wasting" time.
Today must not be a souvenir of yesterday, and so the struggle is everlasting. Who am I today? What do I see today? How shall I use what I know, and how shall I avoid being victim of what I know? Life is not repetition. -Robert Henri