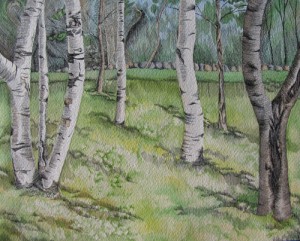 Scene from Snow Farm (8 x 10), dip pen and wash on Arches 140 lb cp, 5/31/09
I finished this on Sunday afternoon and handed it off Monday morning to be displayed in an arts fundraiser event being held at my workplace this week. I also donated it to be auctioned off at a silent auction this evening as part of the same event. I hope that it gets taken home by someone who enjoys it.
I had a month's notice and I knew that I needed to get this done but I procrastinated until the very end. I had the whole thing worked out in my head but I was afraid to actually start it. The reason? Perfectionism as usual. My need for the thing to be perfect and my anxiety and knowledge that it would never measure up to that kept me from even attempting it. I ended up getting it done and being largely happy with it, but I would have been better off if I had done it three weeks ago.
So what do I have to show for myself? A pretty picture (that would have been the same if I had done it three weeks ago) and a boatload of stress. Because I waited until the last minute, I missed out on going to visit my parents this weekend and seeing their brand new house for the first time. I also missed going to the gym and I had rice krispies for dinner. I barely left the house even though it was beautiful outside because I was hunched over my table with a dip pen and ink. For the past month I've had this thing hanging over my head making me feel yucky as well.
This same sort of scenario has happened to me before and I have a feeling that it is a common problem for people. Has anyone out there found a solution for this?