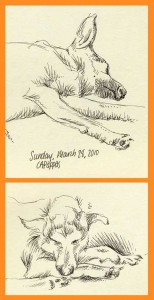 Yesterday I undertook a project of massive proportions: I organized all my art stuff. It was one of my 2010 art goals, but I probably wouldn't have done it so soon if we didn't need the dining room table for Easter dinner. I spent over eight hours in total. First I sorted and found things to get rid of or give away. Then I used the extra space to find permanent homes for everything. I sorted all my supplies into multiple shoe boxes organized by medium. I was truly shocked at the number of pens I have – enough for a shoe box all their own.
I also made a small box of supplies to bring to my boyfriend's house so that I would already have everything on hand without having to cart stuff along every time. This is what I included: a small sketchbook (about 7.5 x 6 inches); a ballpoint pen; kneaded eraser in a ziplock bag (so little pieces of lint don't get stuck in it); a handheld pencil sharpener, graphite pencils (HB, B, 2B, 4B, ebony); Prismacolor colored pencils (black, sienna brown, crimson red, grass green, apple green, violet blue, and canary yellow); stabilo markers and fineliners; and sanguine, sepia and black Pitt pens. I might change up the pencil selection later.
After all this work yesterday, I feel like I have a clean slate in front of me. I spent today sketching various things (like Katie) and planning upcoming projects. Now that I really put things in order I am going to try my hardest to keep maintaining it. I am naturally prone to clutter, so it might be hard for me.
On a sadder note, I am sorry to hear about Danny Gregory's wife Patti who died tragically last week. He put up a lovely tribute to her on his blog. Even though I loved art since I was a child, it was Danny's online group Everyday Matters that originally got me into the daily sketching habit back in 2004. I know that a lot of other artists out there have a similar story, as many people have launched successful art careers since joining. I am keeping Danny and Jack in my prayers.