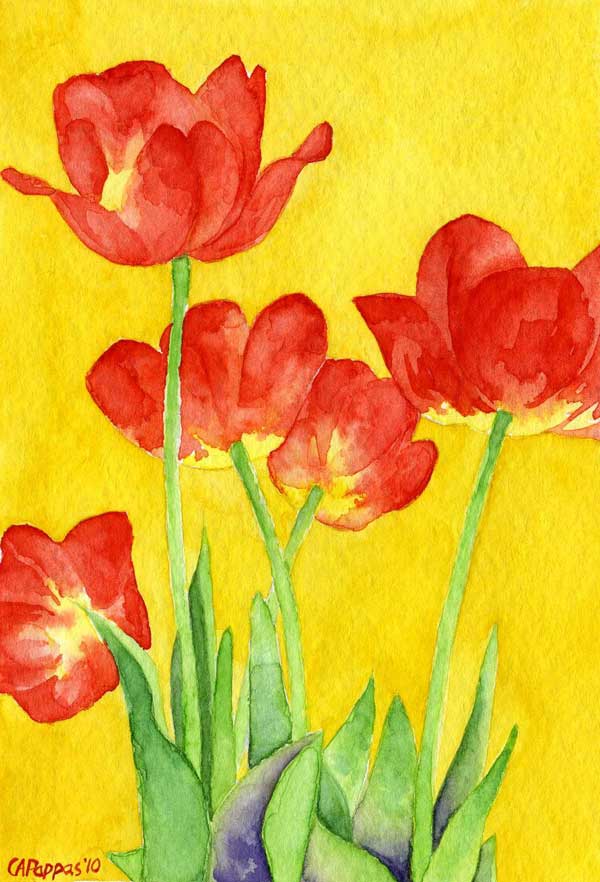 These are some tulips that I painted recently from a photo I took back in March. I haven't painted flowers in ages and I sort of missed it. Plus it has been so hot these days that I haven't even been going outside to sketch.
Organizing has been a big theme of mine this year. I felt like my blog was in need of a face lift so I changed things up a bit around here and redid my theme. I like how it turned out and I have a lot more flexibility now, without being too cluttered. I created a couple of different headers that change when you refresh the page. I also reorganized my categories and created subcategories. I put all of my colored pencil drawings under Painting because that is a more accurate description than drawing. I also created a new category for Mixed Media because I do a lot of pen and watercolor and pen and colored pencil pieces and I wanted a place just for them. One thing that I'm proud of is that I finally figured out how to create my own favicon (it's a pear).
This weekend I'm planning on doing more organizing of my art area. It is really starting to get out of hand again (unfortunately). I saw this post recently at Art Biz Blog entitled Stop Handling Your Art Like It's Homeless. It really inspired me to organize my artwork and art supplies in a better way. The video is pretty interesting as well.