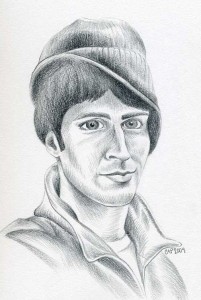 One of my goals for 2009 was to work in a series. I do have another series planned when the warmer weather comes around, but at the moment it is cold and depressing out. For now, I decided to start a series that I can do indoors and that will also improve my skills. In April I am going to be taking a week long portrait and figure course so I feel like warming up for that. I've never done much by way of figures, but I will move on to that soon enough.
I decided that I was going to master portrait art 10 years ago when I was in Montmartre observing the street artists. The portraits they were drawing were so amazing and they really blew me away. I remember they used these gigantic blending stumps about an inch thick. My old art teacher happened to be traveling with my family and I remember she taught me the basic facial proportions while we were driving through the Dolomites. By the time we got to Paris (our last stop) and I saw these artists drawing really amazing portraits, I was completely inspired.
That trip was really a turning point in my art life (someday I should write another post about it). When we got home, I bought stacks of fashion magazine and couldn't stop drawing portraits. Eventually I got pretty good and I had quite a collection. (Unfortunately, a lot of those early drawings were destroyed in a fit of teenage rage.) I drew mostly females though, to the extent that I developed an irrational fear of drawing men. Hence, this new series: A Series of Men. These will be mostly anonymous men from (legal) photos with maybe a few people that I actually know thrown in there.
The drawing above was based on this photo. He reminds me slightly of someone my sister used to date years ago. I'm sorry to say that capturing a likeness is not yet something I know how to do.